Shibaura's thermistor sensors
Shibaura has been manufacturing versatile thermistor sensors supported by customers.
From a great number of our sensor products, only standard ones are introduced below.
The optimum sensor termination can also be selected depending on your mounting and wiring requirements.
We are always ready for inquiries and demands for customization of individual products.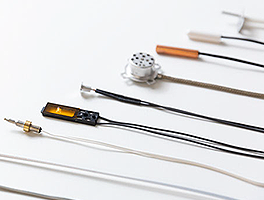 Search Products by Use
Search Products by Measurement Method
Our products
Household Appliances (Electronics, etc.)
Model Name
Example Usage
Subject of Measurement

KTM1

Air conditioner indoor units/outdoor units and piping, dehumidifiers,dishwashers,
All-in-one Washer-dryers, Refrigerators
Solid interior and surface temperature measurement,
Atmospheric temperature measurement

KT1

Air conditioner indoor units,

Fan Heaters,

All-in-one Washer-dryers,

printers,

Multifunction printers,

Water heaters,

Bidet Toilets

Solid interior and surface temperature measurement,
Atmospheric temperature measurement

CC1

Air conditioner indoor units,
All-in-one Washer-dryers, Refrigerators,
freezer display cases
Atmospheric temperature measurement

CC2

All-in-one Washer-dryers
Atmospheric temperature measurement

RT1

Irons, Induction cookers
Solid interior and surface temperature measurement

SP1

microwave ovens,
All-in-one Washer-dryers, Humidity measurement
Humidity measurement

SPD1

microwave ovens
Humidity measurement